Kankakei Ropeway Kouun Station in Setonaikai National Park, Renovation Project has completed.
Kankakei Caniyon in Shodoshima island is one of the most beautiful view point in Setonaikai National Park.
Air walk tour with Kankakei Ropeway is Amazing experience and very popular in 60 years.
We have designed for renovation of Kouun (bottom side) Station and the ropeway has just Re-open on July 2020.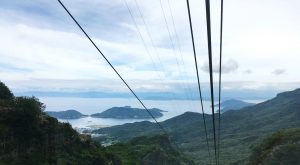 安部良アトリエでは、瀬戸内海国立公園の代表的な景勝地である寒霞渓にて、ロープウェイ駅舎のリノベーション設計を担当。2020年7月、リノベーションした紅雲(山麓)駅舎がリニューアルオープンされました。