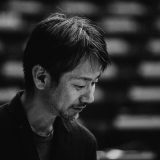 Ryo ABE
We integrate original ideas, and forms with traditional Japanese techniques, and materials in order to establish a new international style appropriate to these times. This is in stark contrast to the minimalist "white box" aesthetic that most people associate with contemporary Japanese architecture.
The appearance, and inner space of our buildings use very spontaneous forms, and gestures to create a dialog with the surrounding environment, and its inhabitants. Indeed, in our approach, the building is part of the environment - part of nature, as are we. This is a reflection of the Japanese idea of animism, deeply rooted the Shinto philosophy, in which every object, space, and phenomenon has its own soul.
Each project is intrinsically connected to its surroundings, considering local history, and traditions, using local materials, and craftsmanship. We believe that without being overtly so, this makes our methodology naturally, and inherently sustainable, without regard to trends, or public convention.
AARA - Architects Atelier Ryo Abe
4-2-22-201 Shibuya Shibuya-ku Tokyo, JAPAN 150-0002
PHONE  int'l+813-3407-4676  |  FAX  int'l+813-3407-4675
Contact us
安部 良
1966 広島県生まれ
1995 - 現在 安部良アトリエ一級建築士事務所 主宰
1994 一級建築士免許(第258050号) 取得
1992 早稲田大学大学院理工学研究科建築学専攻修士課程 修了
2020 - 総務省地域力創造アドバイザー
2016 - 2019 明治大学兼任講師
2015 - 2020 マルセイユ建築国立学校 招聘講師
著書
『建築依存症』単著/2006年、ラトルズ
『丹下健三 伝統と創造 − 瀬戸内から世界へ』寄稿/2013年、美術出版社
論文
論文「過疎高齢化が進む瀬戸内海の離島 男木島のコミュニティーと集落景観存続への課題」2020年3月/2019年度日本建築学会関東支部研究報告
"コミュニティの見える場面をつくる"
Architects Atelier Ryo Abe〈安部良アトリエ一級建築士事務所〉では、地域拠点や新しい福祉の場などの設計を通じ、"コミュニティの見える場面" づくりに取り組んでいます。代表作である島キッチン(香川県豊島)をはじめ、あわくら温泉元湯(岡山県⻄ 粟倉村)、十津川村高森のいえ(奈良県十津川村)、福屋八丁堀本店パブリックガーデン SORALA(広島県広島市)、 豊島 mamma(香川県豊島)のほか、各地で住宅・店鋪・公共建築・社会福祉施設などの建築設計業務を統括。地域活性の基盤づくりとその舞台となる場を手がけ、近年では南フランス・ カランク国立公園など、海外での建築プロジェクトも進行中です。
安部良アトリエ一級建築士事務所
150-0002  東京都渋谷区渋谷4-2-22-201
PHONE  03-3407-4676  |  FAX  03-3407-4675
お問い合わせ