Normal building
- Tokyo, Japan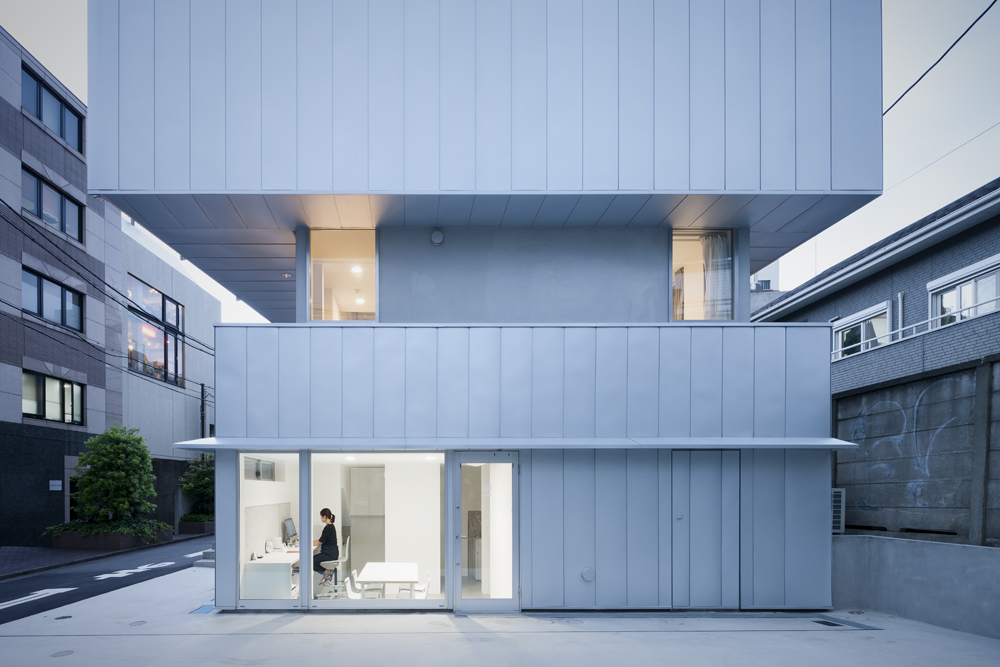 This is the complex building of house and office, stands in the residence area in the center of Tokyo. The client runs the product design office and he wished this building to appear the design motto of the company and the life style of the family at the same time. The more to express the feeling of this family, spontaneous to connect neighbors, we design this house as new landscape of this town.
In this area, there are various types of buildings, small wooden houses, reinforced-concrete apartments and high-rise buildings…
We started to design with a minimal, boxy building, but carefully broke the volume of each space and designed the composition in order to make the new profile of the corner fit the various scales of the surrounding buildings. Inside the core volume of this building, covered with mortar, are the private areas. Around the core, covered with galvanized metal sheet, are the more public areas.
We set the office at the basement and raised up the dining room, kitchen and veranda, with each function facing different streets.
プロダクトデザイナーと家族の為の住宅、事務所空間、両親のための週末住宅を組み合わせた建築。都心の住宅と商業が混在する、高密度に開発された地域での住宅のありかた、職住の距離のとりかた、それらを反影した建築の佇まい方をテーマにし、角地に立地する敷地環境と共に街の様相を作り出す建築として設計した。
施主の第一の希望は友人達をもてなす家。バルコニーや屋上スペースを交流の主空間として、街路からそこ迄の導線をスムーズに作り出すステップフロアーの構成とすることで、街路、アプローチ、玄関、リビング、ダイニング、バルコニー、屋上へと連続するシークエンスをつくりだしながら、それぞれの空間の特徴を明確にひき出した。
プライバシーはしっかり確立しながらも積極的に街に対して関わって行こうとする彼らのライフスタイルがこの建築の外観を作りだしている。都市的な表情の外壁を小さなボリュームに分割しながらずらし重ね、様々なスタイルやビルディングタイプが反乱する風景の中で、近隣の建物と寄り添ったり離れたりしながら、街並に変わる、街の中のリズムを生み出そうとした。
Photos : ©Ken SHIMIZU

House & Office
site area : 123.21 m²
built area : 59.71 m²
total floor area : 142.27 m²
B1F : 40.05 m²
1F : 48.60 m²
2F : 53.62 m²