Shed, Tree and Lunar
- Kanagawa, Japan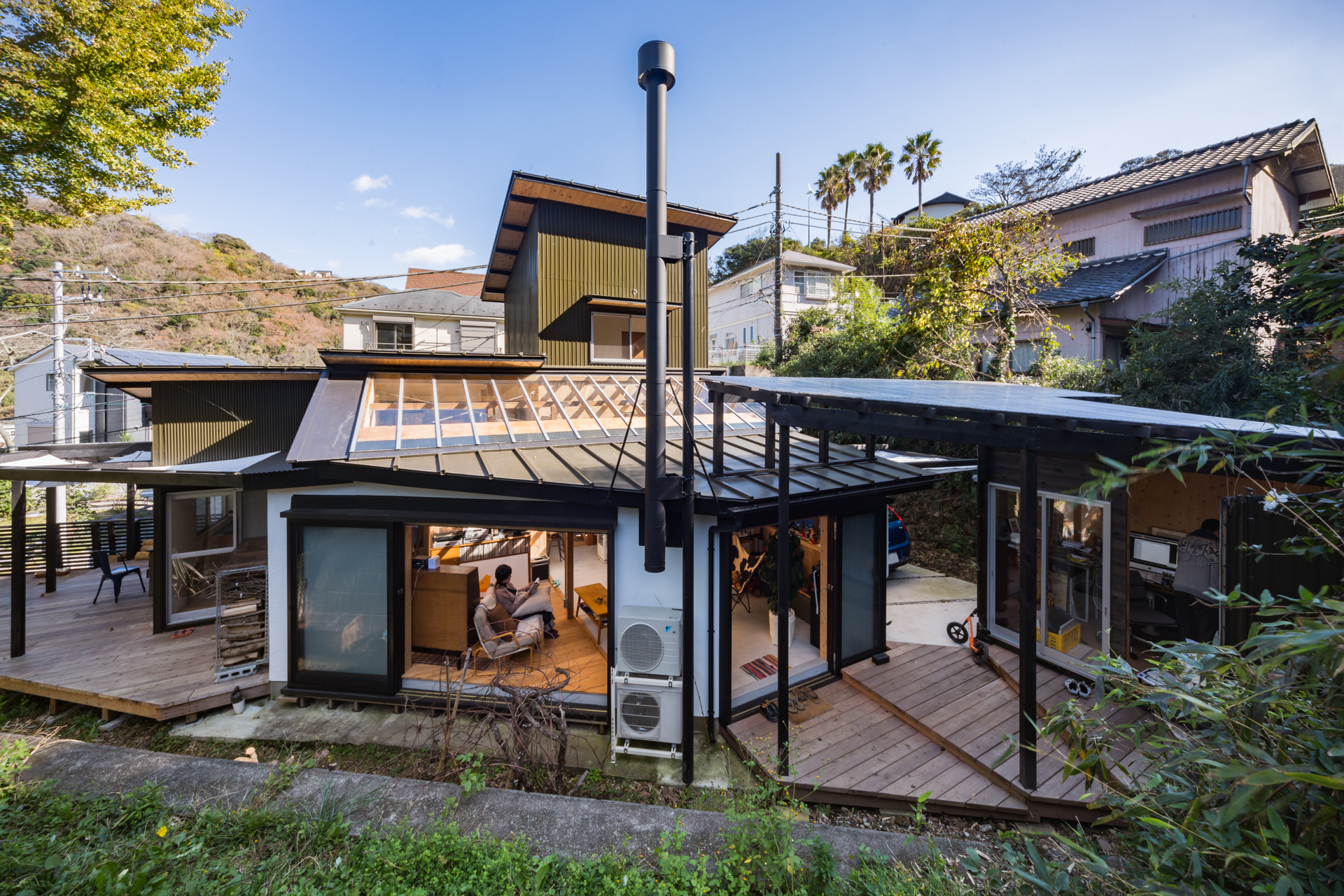 - Architecture as an ambiguous outline
A residential / workplace for graphic designers and their families. In a residential area and also in deep green valley of Hayama, there is a 20m high ginkgo tree and a small wooden two- story house remained on a small triangular plot surrounded with bamboo bushes. Neighboring houses are built without worrying too much about the boundaries and live while sharing gardens and open spaces. This is a small house with about 50 years old, with a history that has been renovated every time the occupant changes, which is rare in Japan. Although it is a small floor space for three families and a cat, I thought that the gentle feeling of commune around this place was the most valuable quality of life for them.
The theme was to create architecture as a lively outline of the landscape. By obfuscating various boundaries such as the boundary between the neighboring house, inside and outside, workplace and place of residence, it is possible to reopen the framework of the house as a place to include the garden and surrounding environment.
We designed the terraces and walls around the building while carefully observing the sense of distance from the neighborhood, and aimed to build a new cityscape that has begun to appear in the area so that each other's lifestyles overlap.
The form of the entrance, which is also the boundary between the house and society, has been obscured, and the studio that serves as the owner's workplace has been placed as a separation through a semi-outdoor entrance.
If you open the studio door and the sliding door, you can create a living environment where the house and the workplace are loosely connected.
The floor, walls, and ceiling are all peeled off once, and the structural and unnecessary reinforcements are applied, while the unnecessary elements in terms of functionality and design are removed, and the skeleton of the existing house is extracted. It is a living space that actively incorporates the surrounding landscape into the history of extension and reconstruction.
The owner enjoys the expression of bamboo swaying in the wind and looks at the moon from the skylight at night. Architecture as an outline has disappeared from consciousness, and life linked to a rough environment has begun.
コヤトキトツキ - 曖昧な輪郭としての建築
グラフィックデザイナーとその家族のための住宅兼仕事場である。海岸から緑深い谷戸へと続く住宅地の、竹やぶに接した三角形の小さな土地に、高さ20m以上のイチョウの木と小さな木造2階建ての住宅が残っていた。隣家同士が境界をあまり気にせずに建ち、庭や空地などを共有しながら住んでいる。築おおよそ50年、建て替えを好む日本では珍しく、住まい手が変わるたびに増改築を繰り返した歴史をもつささやかな住宅。家族3人と猫1匹には小さな床面積だが、この場所に流れる緩やかな空気感こそが彼らにとって最も価値のある生活のクオリティではないかと考えた。
隣家との敷地境界や、中と外、仕事場と住まいの場などさまざまな境界を曖昧にすることで、家という枠組みをもう1歩開いて庭や周辺環境までも含めた居場所として棲まえるような、活き活きとした風景の輪郭として建築をつくることを主題とした。近隣との距離感を注意深く観察しながら建物周囲のテラスと庇をデザインし、お互いの生活風景が重なり合うように、地域に現れ始めている新しい街並みに参加する建築を目指した。
家と社会の境界でもある玄関という形式を曖昧にし、建主の仕事場となるスタジオを、半屋外のエントランスを介した離れとして配置した。スタジオの扉と住宅の引き戸を開け放てば、中と外、住居と仕事場が緩やかに繋がった生活環境が生まれる。この住宅にとっておそらく3度目の増改築になる母屋の工事では、床、壁、天井を全て一度剥がし、断熱を加え構造的に必要な補強を施しながら、機能的・意匠的に不必要な要素を削ぎ落として、既存住宅の骨格を抽出し、これまでの増改築の歴史の中に周囲の景観を積極的に取り込んだ住空間とした。
建主は風に揺れる竹の表情を楽しみ、夜には天窓から月を眺めているそうだ。輪郭としての建築は意識の中から消えて、おおらかな環境とリンクした生活が始まっている。
Photos
1 : Photo by Shinkenchiku-sha
2-9 : ©Ken SHIMIZU
Collaboration : Masayoshi MATSUBARA 
House & Atelier
site area : 180.00 m²
built area : 71.29 m²
total floor area : 76.64 m²
1F : 63.40 m²
2F : 13.24 m²